BOTOX Cosmetic & Dysport
Injectables are an immediate solution for wrinkle removal and prevention… erase yours today!
Wrinkle Treatment Options with Botox or Dysport
Natural aging and a lifetime of involuntary facial muscle actions contribute to the formation of wrinkles, creases and lines that can make you look angry, tired or older than you feel. Although aging may be inevitable, we possess an unprecedented arsenal of gentle, non-surgical treatments that combat the most noticeable and frustrating facial imperfections.  One of the most popular treatments are for wrinkle removal or reversal using injections of Botox or Dysport for your "elevens", crows feet, forehead wrinkles and much more!
BOTOX and Dysport are the leading injection treatments for wrinkle removal and control.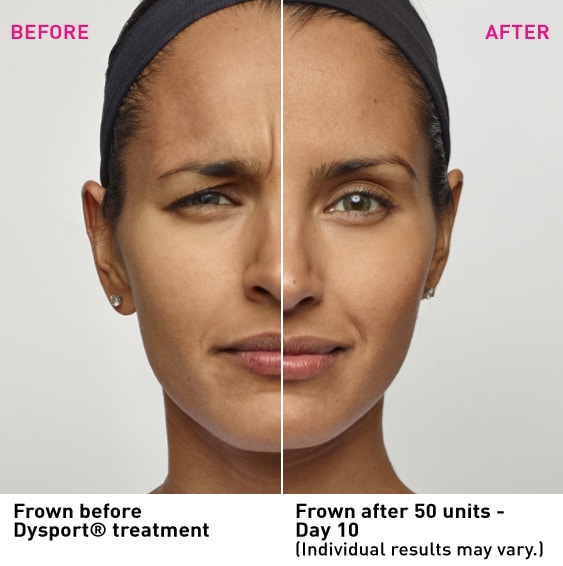 Dysport and BOTOX are both excellent treatments for the following areas of concern:
Frown lines
Forehead lines
Crow's feet
Masseter muscle hypertrophy
Poor jawline definition (Nefertiti Lift)
Chin puckering and sagging
Neck lines
Lines around the lips
The Botox formula is based on a safe form of botulinum toxin. The 'toxin' is actually a neurotoxin capable of freezing muscles in place, ensuring that they are able to retain their desired shape.
Botox injections are therefore a great way to counteract the inevitable effects of aging. As we grow older, we begin to lose collagen in our skin, and repetitive movements create lines and wrinkles.
Botox effectively treats this issue and helps to keep the face looking youthful.  Come by and see us at our Belton location on Main St for expert Botox injections today.
Dysport: An Alternative To BOTOX
DA-approved Dysport serves as an alternative to Botox. While working similar to Botox, in many cases, Dysport may provide a quicker result that may also last a little longer then with Botox.
Dysport is ideal for both men and women alike and suitable for younger adults in their 20s and 30s who want to take a preventative approach to anti-aging.
Dysport also has a very low risk of side effects. While some patients may experience mild swelling, redness or bruising at the injection site, these conditions will quickly subside similar to the side effects of BOTOX.
Quick Treatment Time
Sessions usually last between 10 and 15 minutes.
No Downtime
You can return to normal activities right away. Many patients undergo treatment on their lunch breaks then return immediately to work.
Long Lasting Results
Noticeable results usually appear within two to three days and last up to four months.
Safety
FDA-approved and backed by 25 years of clinical use, Dysport has been proven safe for a multitude of applications.
Get A FREE Consultation Today